I'M BACK!
This is what 5 days of minimal sleep + a 19 hour day of travel looks like.
I'm back from my first convention! It was glorious, incredible chaos with side orders of laughter, silliness, and occasional lunacy. I made new friends, talked to readers, managed to avoid fan-girling all over some of my favourite authors, and even survived my first panel without tripping over my own tongue. I also got to see Kali Argent again! I've missed her since we said goodbye in Las Vegas last year.
I met up with several other Canadian authors, including the awesome Eve Langlais (Fuckin' Eh) Who has informed me I'm her bitch now. I think that's a good thing? Coreene Callahan is a total sweetheart, and Bianca Sommerland is awesome sauce. (Diplomatic Immunity at the Embassy, baby!) I even met a reader from the island I live on! Too cool.
I made some incredible friends, including Melanie Marchande and Kele Moon. These are two of the nicest peeps you can imagine. Melanie introduced me to sausage, biscuits and gravy for breakfast, and Kele handed over some of her precious stash of Laurann Dohner swag. (Though we may never agree on who the hottest New Species is...)
I fell in love with the friendliness of southerners, and was traumatized by the appearance of something called a Palmetto bug. HUGE! Aargh! Ew! I will save you all the horror and not post a picture of these things. *shudder* I also learned that Fried Green Tomatoes are delicious.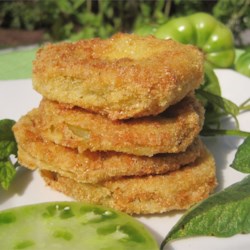 This is what heaven might taste like
My first book signing was a success, I met and talked with a tonne of readers, gave away a heap of swag, and signed books, kindles, t-shirts and autograph books. It was a whirlwind four hours of fun! (And Jd Holly doing a cartwheel for every book she sold was damned entertaining.)
Me at the beginning of the signing
The organizers did an incredible job of keeping the everyone on track and on time, and when it was all over it was hard to accept that I had to go home and leave all my new friends behind. I cannot wait to head back to Atlanta next Spring for The Novel Experience Convention.
I met so many amazing authors, bloggers, readers and friends, I cannot begin to name them all. It was a weekend I will never forget, and it was one hell of a way to celebrate my birthday. On a side note, since I turned 45 while outside my own country, I've decided I'll be 44 for another year. That works, right?
You can check out my complete collection of pictures at my facebook page. https://www.facebook.com/SusanHayesAuthor, but here are a few to whet your appetite.
The Tiara Ball with our lovely hostess ~ Kele Moon (she's the rocking redhead.)
Me dressed as a succubus for the Bump in the Night Ball (my birthday!)
Kali Argent as Rainbow Brite, standing with the Queen of the Damned (Tiara Ball)
Bianca Sommerland with the Kali Argent at the welcome event